Profiles in Success: Stories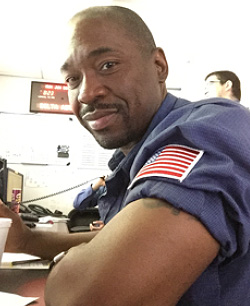 A Fordham vet, Macy served in the Air force where he was a Tactical Aircraft Maintenance Specialist (Crew Chief.) "Prior to flight, I performed checks of aircrafts to ensure they were properly serviced with fuel, hydraulic fluid and liquid oxygen. I performed scheduled inspections and functional checks," he said. Post flight, he was responsible for making sure aircrafts were still in operation-ready condition by maintaining repair records associated with the military standard.
"Integrity, taking ownership, get the mission done at any cost, doing my best at all times, these were key values I learned in the military," he said. "On the intangible side I learned how important adaptability and leadership are and how important it is to multi-task and be a team player." In terms of technical skills, as a Tactical Aircraft Maintenance Specialist, he learned Aviation Maintenance Technology, Electronics, Engineering and Maintenance and repair.
How Edge4vets Mentors Helped Me
"Edge4Vets mentors provided personal attention and exposed me to different ways where my skills could be utilized in various work environments. I learned not to limit myself to one specific skill and as a result I was able to get a job with Delta."
How Macy Is Using His Military Skills In Civilian Life
Macy is currently employed with Delta Airlines as a Ground Maintenance Mechanic (GMM) in the Ground Service Equipment Department (GSE). "At Delta, we take great pride in carrying thousands of passengers and their bags safely and speedily to their destinations." Everyday for Delta, Macy applies the crucial values he learned in the USAF, which he called "taking ownership," He added, "On occasion, when something goes wrong, every (GMM) ground maintenance mechanic, takes ownership to resolve the situation. That's what gives us pride! It's not that obstacles occur sometimes, but when challenged we have the experience from the military to overcome them."