Profiles in Success: Stories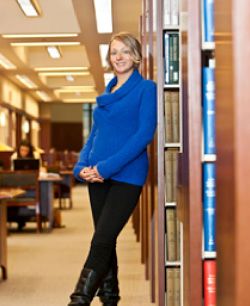 Dawn served in the Navy from September 11, 2001 for two years before transferring into the Reserves, where she served an additional six years. She began her career as an administrative clerk (YN – Yeoman) and was promoted to the Executive Administrative position for her Commanding and Executive Officers. She trained at the Naval Justice School, assisting the Squadron Legal Officer before being accepted into an Intel unit based in Washington D.C.
"The Navy instills values such as honor, courage, and commitment," she said. "As a single mom working full-time, volunteering, pursuing higher education and constantly meeting demands from multiple sources, it's often challenging to remain energized and focused - but the military taught me that I can take on anything, juggle multiple priorities, and be dedicated to see things through to the best of my ability." In addition, she developed skills around attention to detail, and big picture thinking along with strong communicational skills. She combined these with multi-cultural sensitivity and awareness and learned that being a team player is critical in today's global workplace, along with being fully accountable.
How Edge4vets Mentors Helped Me
"Edge4Vets mentors helped me realize that my skills were highly transferable and that corporations such as Pfizer Inc. could benefit from my skills and experiences. Originally, I thought I needed a financial or scientific background, but Michelle Price and others at Pfizer encouraged me to apply. Also, being able to share my story with engaged mentors truly strengthened my interviewing skills which bolstered my confidence."
How Dawn Is Using Her Military Skills In Civilian Life
Dawn graduated from Fordham University in 2013 with double bachelor's degrees in Business (Organizational Leadership) & Psychology.) Before going out on her own as an entrepreneur, she worked within Executive Operations for Pfizer's Vaccines, Oncology & Consumer Health business units (VOC) where she was also a team lead for the Veterans in Pfizer Group, providing support to service members, as well as Pfizer's Global Well Being team. "My military skills come into play on a daily basis, including organization, operational planning, razor sharp focus and strategic thinking. Because of my military training I am as comfortable interacting with a CEO, government official or business owner, as I am with an adolescent, student veteran, or fellow parent in my community."