Profiles in Success: Stories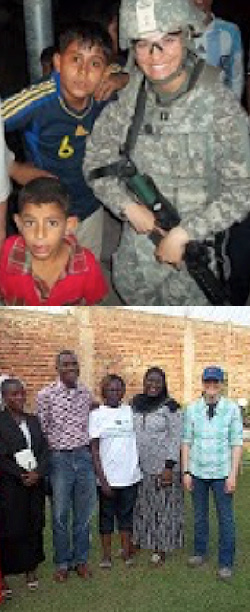 Chrissy Burbach
United Nations Mission to the Congo
Chrissy, a Fordham vet, served in the Army National Guard and the Army Reserves as a Signal Officer and a Civil Affairs Officer from 2004-2012. She deployed first to southern Iraq as a Communications Officer for a Battalion headquarters from 2007-2008. Her duties included installation, operation, and maintenance of communications equipment. In 2011, she deployed again to southern Iraq but this time she served as a liaison between the U.S. military and civilian leaders to build strong relationships in local communities focusing on capacity-building projects, micro grants for small businesses and worked with local leaders and government officials to improve development in their areas.
How Edge4vets Mentors Helped Me
"In the military, I enjoyed being a part of something bigger than myself and functioning together as a team. I developed a lot of vital skills and values but didn't quite realize how much of that I could translate into civilian life. The Edge4Vets workshops helped me put things into perspective. It didn't click right away that maintaining jamming devices used in vehicles to counteract radio-controlled bombs allowed me to become much more detail-oriented and responsible while working quickly under pressure. The mentors provided suggestions to help me to talk confidently about my achievements without sounding arrogant and they offered invaluable advice on how best to present myself in job interviews so my values and skills would shine through."
How Chrissy Is Using Her Military Skills In Civilian Life
I'm working with the UN Volunteers as an Associate Civil Affairs Officer in the Democratic Republic of Congo. I am supporting the stabilization mission, and it's uncanny how well my military background in Civil Affairs has prepared me. My previous experience interacting with people from different backgrounds and cultures helps me engage people effectively and keep attuned to their beliefs and lifestyles. Plans are always subject to change so the helicopter may leave earlier or the mission to a village may be pushed back, but from my military experience I know to be prepared and always have an alternative course of action ready. I am loving the adventure and am grateful to Edge4Vets for providing me with the right tools to land the job I've always wanted.