Edge4Vets/ACI-NA:
Rebuild your Workforce with Veterans.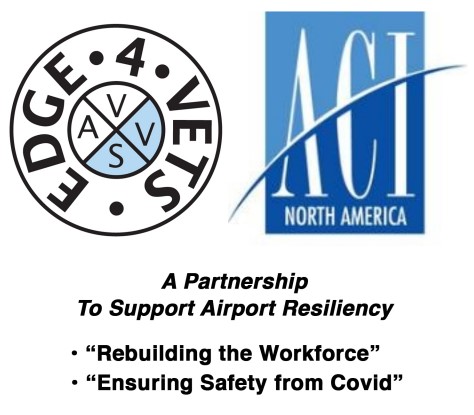 Edge4Vets partners with Airports Council Int'l – North America (ACI-NA) to accelerate veterans into airport workforces nationally. We collaborate with the US Department of Labor (DOL VETS,) the Veterans Administration, University Aviation Association as well as schools and veterans' groups in each of our airport partner communities to create a pipeline for recruitment. The workshop series is open to veterans, National Guard, transitioning active-duty and spouses.
The video below shows two "Success Vets" who took Edge4Vets at Houston Airport System, got hired and now are building careers.
---
AIRPORTS: join the ACI-NA/Edge4Vets network:
VETERANS/SERVICE PERSONNEL – take the workshop:
How Edge4Vets works:
1. REGISTRATION:
Edge4Vets creates a coalition of partners to recruit military service personnel for the Edge4Vets PREP and CONNECT program, including:
US Dept of Labor (Veterans Employment and Training Services) and DOL career centers in each state.
Veterans Administration (and Vet Centers in each community.)
Local colleges and universities, as well as student/vets from University of
Aviation Association's 128 member schools.
Local veterans recruited through the airport's career page and other channels.
Once participants register, Edge4Vets gets them ready for the ONLINE workshop series – which includes an Orientation, ONLINE training course, Connection Workshop and "Hone Your Edge" follow up session.
Here's a sample of a 30-second spot on the Houston Airport System Career Page that supports recruitment:
2. ORIENTATION:
Edge4Vets offers a 90-minute ZOOM to explain how the program works, showcase benefits and introduce participants to HR reps and hiring managers. NOTE: HR reps and hiring managers at our partner airports are prepped to serve as "mentors" to provide feedback. This creates an automatic "bond" between participants and airport HR that facilitates hiring.
3. PREPARATION - ONLINE EDGE4VETS TRAINING COURSE:
Edge4Vets gives participants the kind of support business leaders say they need most; that is, training to translate their military skills. Through a series of short videos and exercises, the online course guides participants to create a personal PLAN4SUCCESS. The ONLINE course teaches them how to identify their strengths from the military – VALUES and SKILLS - and express them in civilian terms for an "edge" to get hired. Following the Orientation participants are given access to the ONLINE training course. They have two weeks to create a draft of their PLAN4SUCCESS before returning to the next online session - the CONNECTION WORKSHOP to match their skills and interests to job opportunities.
4. CONNECTION WORKSHOP
This workshop is the pay-off for participants. In this 90-minute ZOOM the airport's HR reps and hiring managers showcase job openings, as well as describe the process for applying. Both veterans and the airport gain: vets get "prep" to become job ready before being connected to decision makers, thus gaining an "edge." Airports gain an "edge" to accelerate veterans into their workforce without having to search for candidates.
5. FOLLOW UP SESSION:
HONE YOUR EDGE After the Connection Workshop, participants are given 30 days to complete the ONLINE course and finalize their PLAN4SUCCESS. During this period, Edge4Vets invites them to a voluntary "Hone Your Edge" workshop for those who want extra support to navigate the airport's career page and hiring system. The video below was produced by ACI-NA. It showcases the goal, which is to make Edge4Vets available to all ACI-NA member airports across the country. To join the Edge4Vets/ACI-NA network – CONTACT US.