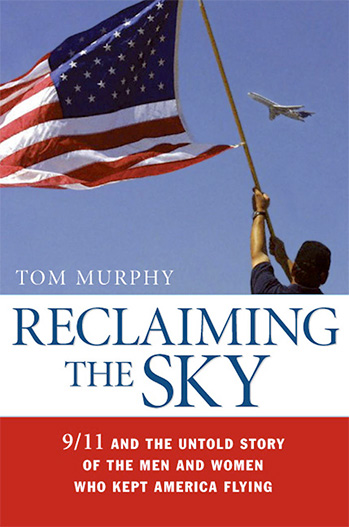 Publisher: AMACOM award winning Publishing division of the American Management Association
9/11 and the Untold Story of the Men and Women Who Kept America Flying
On the morning on September 11, 2001, thousands of airline and airport professionals headed off for what they assumed would be just another day on the job. Of course it was anything but. Now, as the nation approaches the fifth aniversary of that tragic day, the stories of the heroes and casualties among our dedicated air travel workers remain largely untold.
Until now. Reclaiming the Sky honors not only those workers who died doing their jobs, but also the ones that soldiered through on that day and in the aftermath, tirelessly piecing back together the fragments of a shattered industry - and indeed a critical social and economic force - while putting aside their own fears and grief.
In conjunction with a website, reclaimingthesky.com - where readers can share their stories and thoughts - the book not only honors the heroes and casualties of 9/11, it also offers common ground to those seeking meaning, purpose and the strength to move forward.
Tom Murphy (Bellingham, WA) has been an aviation industry trainer for twenty years and is president of The Service Institute. For the last few years, he has focused primarily on helping thousands of air travel professionals and their families recover in the wake of the September 11th attacks.
All author royalties support Aviation Charities*


"A fitting tribute to the quiet heroes who got this country started again after it was so abruptly stopped on 9/11"
Doug McCormick - former president of Ivillage and Lifetime Television
"It is inspiring to see the leadership and courage of so many strong women in this story"
Denise M. Morrison - President, Campbell U.S.A. Campbell Soup Company
"Murphy provides his reader with a "road map" for learning from loss that can be applied to any loss in life."
Gloria Lintermans - The Healing Power of Love Transcending the Loss of a Spouse to New Love
*Book Sales Support Aviation Charities Reclaiming the Sky, is designed to support aviation charities - as such, all profits from sales of the book, either online or through bookstores, will be used to create a fund. That fund, which is held by the publisher, will be dispersed as follows: Twenty-five percent of the profits from online and bookstore sales will be donated to the WINGS Foundation and the CAUSE Foundation, the charities that support American and United Airlines flight attendants in distress. These two groups have been leaders with Tom Murphy in creating the reclaimingthesky.com website as a "support" program to apply the healing lessons from the book.Seventy-five percent of the profits from on-going online and bookstore sales will go into a "fund" to be shared with all of our participating aviation charities each year.