Job Opportunities at NJ TRANSIT

The video showcases the full range of job opportunities, then (below) we break-out all the steps necessary to APPLY and FOLLOW progress of your application online.
NOTE: If you have an emergency question, please send it to our EDGE4VETS INBOX at edge4vets@njtransit.com. (But please use this InBox only for critical questions you can't get the answer to by following the STEPS laid out in the application process below.)
Police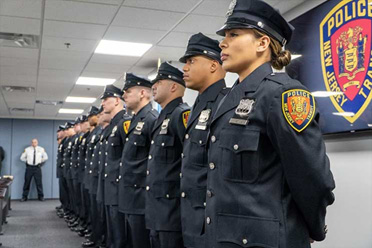 The NJ TRANSIT Police Department (NJTPD) is the only transit policing agency in the country with statewide authority and jurisdiction.
NJTPD's mission is to maintain public order and safety while deterring and preventing terrorism and crime throughout the NJ TRANSIT system. NJTPD's commitment to exceptional public service serves as the foundation in leading the Department's relentless crime prevention and suppression efforts.
Frequent career opportunities within the Police Department include: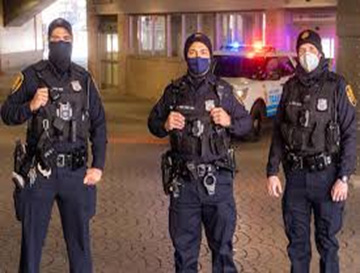 Sworn Police Officers- Must register through the www.PoliceApp.com website
Communication Dispatcher
Fare Inspector
Intelligence Analyst
HR Contact: Gloria Vrabel, Sr. Director Outreach
Rail Operations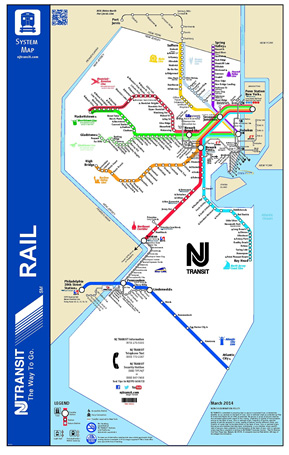 NJ TRANSIT Rail Operations (NJTRO) is the rail division of  NJ TRANSIT. It operates commuter rail service in New Jersey, with most service centered on transportation to and from New York City, Hoboken, and Newark. We also operate rail service in Orange and Rockland counties in New York.
NJ TRANSIT's commuter rail network consists of 11 lines and 164 stations primarily concentrated in northern New Jersey, with a daily ridership of 910,134 passengers during the week and 527,311 on the weekends (pre-COVID19 pandemic statistics).
Frequent career opportunities within the Rail Operations include:

Electrician
Trackman
Ticket Agent
Rail Car Cleaner
Machinist
Pipefitter
HR Contacts: Vickey Fraser, HR Talent Acquisition Director /Sharon Warren, Principal HR Recruiter
Surface Transit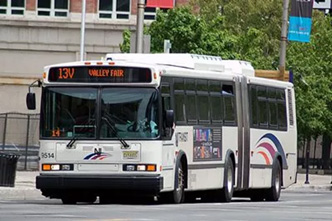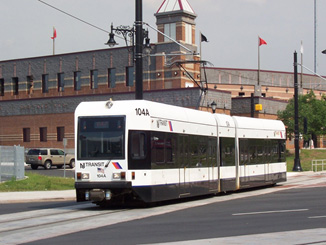 NJ TRANSIT's Surface Transit Department provides service on 251 bus routes serving more than 18,000 bus stops linking major points throughout New Jersey, as well as New York and Philadelphia. This division also own, lease, or sublease over 3,000 buses and many more have been purchased for community shuttles.
Frequent career opportunities within the Surface Transit include:

Diesel Mechanic
Bus Operator
Serviceperson
Foreman II
HR Contact: Patricia (Patty) Styles, HR Talent Acquisition Director
The Application Process
Applying to NJ TRANSIT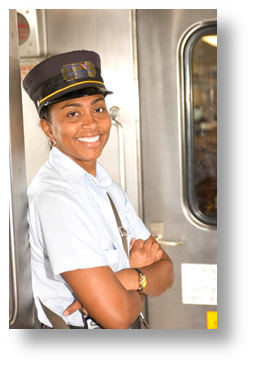 The application process includes some or all of the following steps:
Completing an application
Pre-hire assessments
Pre-hire exposure to training material and/or pre-employment testing
Interviews
Background verification checks
Medical exam
How to Apply Online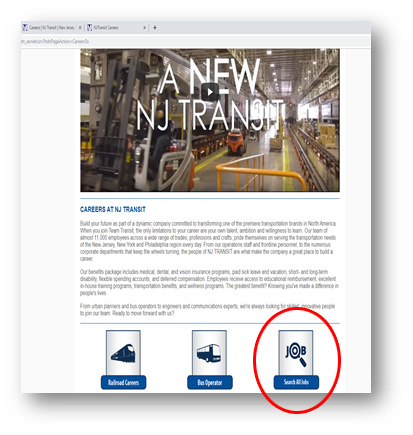 NJ TRANSIT only posts positions that are vacant and in active recruitment on the career web site.
To apply to OPEN positions, you must visit www.njtransit.com/careers
You must create a user profile and select an email address that you check often and use regularly.
Select "SEARCH ALL JOBS" or a specific job title ex: MECHANIC
View the requirements and click "APPLY NOW"
Read the directions carefully and complete all the required fields
Select "EDGE4VETS" on the drop- down menu on the "Where did you hear about us?" section and type "Tom Murphy" OR "Spring Workshop" in the specifications so we can track your progress throughout the hiring process.
It is important to click the "SUBMIT" button at the end of the application in order to be considered for the position in which you've applied.
In order to check the status of your application, simply log-in using your email address and password, and select "APPLICATION STATUS"
If you are selected to move further in the hiring process, you will receive an email with instructions for next steps.
NOTE: It is important that you respond promptly to any and all emails during the recruitment process.
Frequently Asked Questions
How long will it take to hear back from HR after my application is submitted?
All applications are carefully reviewed by our Recruiters. Only applicants considered for employment will be contacted. In order to check the status of your application, simply log-in using the email address and password used to apply, and select "APPLICATION STATUS".
Do all the positions require training? Will I have a probationary period after being hired?
Yes, all positions require some level of training while on the job. Based on the position, there may be a more formal training program and probationary period after being hired.
Are the positions in the different service lines unionized?
Depending on the position, you may have an option to join the labor union associated with that position.
Am I entitled to employment benefits when hired?
All full- time and some part-time positions are eligible for employment benefits.
For all other questions not addressed, please send an email to our Edge4Vets INBOX at Edge4Vets@njtransit.com. *Please note, Hiring Managers may take additional time in reviewing applications for employment consideration. We ask all applicants to remain patient during the recruitment process.